Super Moderator
Staff member
Our local eagles usually disappear from mid August through early-mid October. Where they go I don't know, I presume they fly to where salmon are spawning. I typically close the season's eagle thread when they leave and start a new one upon their return.
This year has been different as I don't believe the Pt. Edwards pair ever departed. I have been seeing one in the distance off and on throughout August into September. Perhaps it is related to their having a baby this year, although I have not seen the fledgling for quite some time.
Thursday (
9/21/17
), the last day of summer, I photographed one of the pair at their usual perch on the tree at the top of Pine St. above the new apartment construction. I'll use two of my photos to start a new thread on this first day of autumn.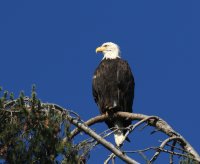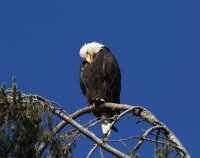 Last season's thread (2016-2017) is here:
http://www.pnwphotos.com/forum/showthread.php?14423-Edmonds-Eagles-2016-17
Last edited: