Super Moderator
Staff member
After returning from Tuesday night's AquaSox game in Everett , I took some shots of Venus and Jupiter from my back deck before they disappeared behind my neighbor's house. According to one report, the two planets will not be lined up this closely until October of this year.
Venus is the bright planet at the bottom of the photo and Jupiter is the pale planet at the top. You can just make out the bands of Jupiter in my photo.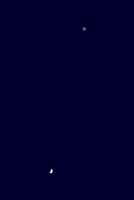 After the planets disappeared, I took some shots of the moon.
I like how the three dimensional craters at the bottom of the moon stick out into the sky.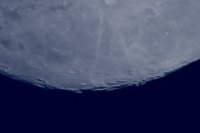 All the shots were taken from a tripod with the 5D Mark III + 500L + 2x teleconverter. Camera settings were monochrome + blue tone filter.
Last edited: