Super Moderator
Staff member
Friday the 13th I ran into John Hurley, creator of the Orca carving at Brackett's Landing, after he had just finished touching it up with paint. Mr. Hurley is holding a photo book recently given to him by his daughter on his 90th birthday.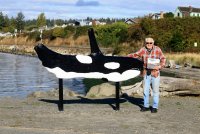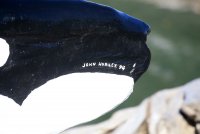 My photos appeared in
My Edmonds News
, where several readers responded with positive comments about Mr Hurley and the carving.
http://myedmondsnews.com/2017/10/scene-edmonds-little-whale-touch-work/
You can read more about Mr. Hurley and the Orca carving, an Edmonds landmark, here:
http://myedmondsnews.com/2015/07/popular-orca-sculpture-returns-to-bracketts-landing-park/