Thanks to a 'heads up' from Bill, I managed a couple of shots, using the Canon 5Diii and 400 mm f5.6L. I later set up the 500mm f4L but of course the eagles chose to
just sit there
..
It always amazes me how much larger the female is. She certainly seems to be in charge!
All shots were taken at 1/1250s, f5.6, ISO 320, hand held. Exp. comp +2/3 (should have been - not +) I need to get out more!!!
(click on image for best resolution)
Mom landing at the family tree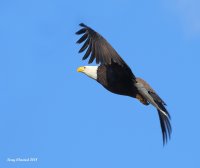 Lots of screeching!
More screeching