Super Moderator
Staff member
Although the forecast has been for sunshine the past week, it has remained foggy in Edmonds for most (if not all) of the days. Saturday (
10/19/13
) Terry and I made a brief trip to Yost Park to look for the resident barred owls. The fog was condensing on the tall fir trees, then falling to the ground like rain.
The fog also condensed on spider webs. While this web may not look unusual, it was at least twenty feet above the ground. I hope its occupant is not afraid of heights.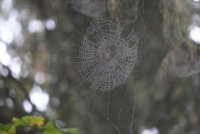 Some more spider webs up in the trees.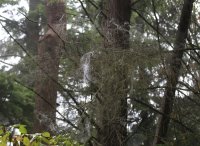 Last edited: