Super Moderator
Staff member
There is an old saying, "Make hay while the sun shines." Here in the Puget Sound region, we have to "Get out and take photos while the sun shines" for much of the year. Saturday (
12-23
) was one of those days.
The young male hummer continues to visit the feeders on my back deck. This year I have not seen much of Dexter, the mature male that staked out my back yard as his territory for the past few years.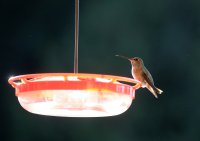 We have been photographing a juvie Cooper's hawk at the marsh since August. I suspect it is an offspring of the pair that has been nesting for a few years in City Park across Sunset Ave./Hwy 104 from the marsh. Saturday afternoon it was standing under one of the trees at the marsh that is adjacent to the walkway between the #2 and #3 viewing platforms. I only spotted it was because it was in the area where I look for Virginia rails.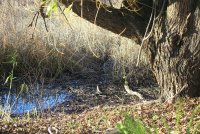 I wondered why it was standing there as it remained motionless for several minutes.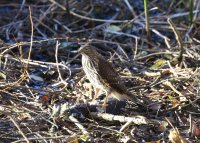 I realized it had captured a good-sized bird after it began to eat it. Eventually a group of people walked by and scared the hawk. It took off with its prey in tow followed by a pack of crows. I was shooting with the 1Dx + 100-400L II telephoto zoom @ 1/1000,
f
/5.6. If you view the photo full size, you will see that the hawk flew out of the focal plane but the prey remained in focus. From the orange feet, it looked as though the hawk had nabbed a pigeon. The young hawk will have plenty of food this winter if it can successfully hunt pigeons.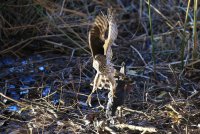 My nemesis, the ruby crown kinglets, have returned for the winter. One was taunting me from a tree by the #4 viewing platform.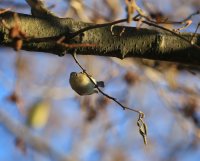 Last edited: