Super Moderator
Staff member
Special Olympics State Softball Tournament 2015
A few shots of my son Daren playing at the Special Olympics state softball tournament in Everett this past weekend. With a drought all summer long, it had to rain Saturday.
Fortunately the rain did not disrupt any of his games. Once again I found my 5DIII + "economy model" (no IS) 4.0/70-200L medium zoom to be the best combo for photographing this outdoor event.
Daren got a hit, but I think he is reaching too far for the ball to get any power. Probably a bad habit from tennis, where he must hit every ball that comes his way.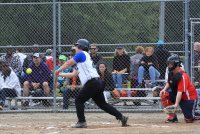 Daren is batting lead-off. I told him not to watch the ball when he gets a hit, just focus on running to first base as fast as he can. One of the many challenges a parent or coach must face with Special Olympics athletes.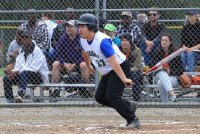 Safe at third. Daren runs the 100 and 200 meter dashes in track, so it is unlikely the third baseman will catch him
IF
he runs hard (big
IF
) and keeps his foot on the base.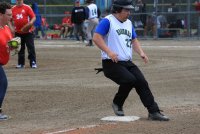 In left field. Daren is the Willie Bloomquist of his team as he played shortstop, first base, and left field in this game. His coach makes sure everyone plays and moves Daren around to cover the weak spots in the lineup.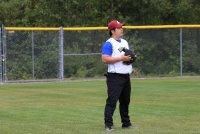 The team receiving the silver medal for second place in their division. Next up: bowling, which starts in September.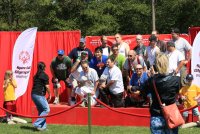 Last edited: