Super Moderator
Staff member
Wildlife of Edmonds, WA. 2013
Being retired, I am out nearly every day taking photos of wildlife (primarily birds) in Edmonds, WA., my home for the past 20+ years. Most of my photography is done about five minutes from my house in what is referred to as the Edmonds Birdmuda Triangle. Included within the triangle are the marina and fishing pier, Brackett's Landing and the underwater dive park, the Edmonds marsh, Willow Creek fish hatchery, and the Pt. Edwards walkway. Other local wild life photography spots are Yost Park in Edmonds and Scriber Lake in nearby Lynnwood.
Rather than start a new thread every time I'm out about town taking photos, I'll just post them in this thread with a brief description.
Question:
I have several Canon cameras and lenses. Are you the viewers interested in the specific cameras and lenses I used to take the photos, or would you rather I don't bother posting that info?
Friday (1/25) was our last sunny day in what has been a very dark, wet autumn and winter. Here are a few photos from that day.
5D Mk III + 100-400L telephoto zoom
Bewick's wren in my backyard.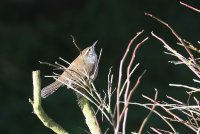 Great blue heron at the marina.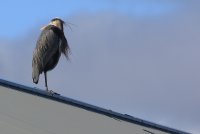 Pt. Edwards eagle pair in the raptor tree at the Willow Creek fish hatchery. Something got them riled up (not me) and they began screeching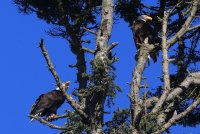 5D Mk III + 2.8/400L telephoto + 2x extender
Hutt Park eagle pair in a faaaar distant tree (not visible to the naked eye) northeast of Brackett's Landing.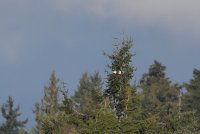 Cormorants and gulls perched on a log anchored in the underwater dive park at Brackett's Landing.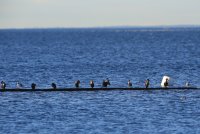 Last edited: