Super Moderator
Staff member
Thursday afternoon (
6/18
) my son and I caught one of the Pt. Edwards eagles at the marsh. The eagle posed on one of the telephone poles as two of the afternoon Sounders went by.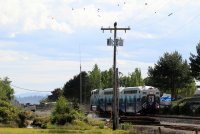 I was hoping it would remain there for the Chicago bound
Empire Builder
, but it flew down to Willow Creek where it appeared to capture a bird. The heat waves prevented any good photos, but we could see white feathers flying up as the eagle ate something.
The eagle flew to different spots along the creek and ended up spending a few minutes bathing before flying up to a pole beside the creek to dry off.
Daren photographed the action handheld with my 7D + 100-400L zoom. These are his photos, which I think turned out well considering the distortion caused by distance and heat waves. I was using the 5DIII + 500L + 2x teleconverter mounted on a tripod. I don't think my photos turned out any better, just closer with less cropping.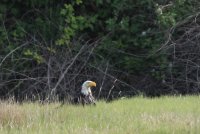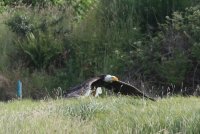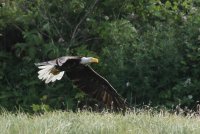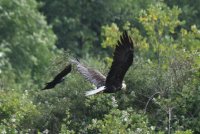 Last edited: